How to choose a stairlift
Knowing where to start when looking at your stairlift options can be tricky, so we've devised this guide to help make the process as easy as possible.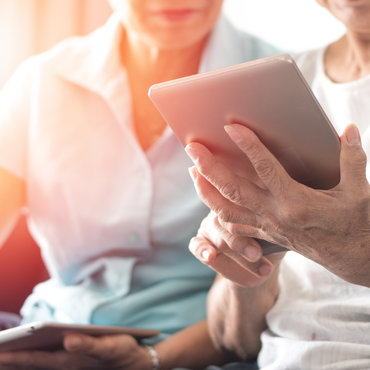 If climbing or descending the stairs has become difficult for you or a loved one, then looking into a stairlift is a good idea. When you first look into purchasing a stairlift, it can be hard to know how to choose a stairlift, as there are many options. From the different types of stair lift options to prices there is a lot to consider.
Consider which type of stairlift is right for you
The first thing you should do is consider which type of stairlift is right for you. From straight stairlifts to curved stairlifts, narrow stairlifts and perch stairlifts there are many different types of stairlifts to choose from. So, depending on whether you have a straight staircase, a narrow staircase or curved stairs, there will be an option that suits your needs.
Consider which features suit your needs
Once you've narrowed this down, it's a good idea to look at the features you may want on your stairlift. From easy to use remote controls to powered swivel seats allowing for easy access at the top and bottom of the stairs and even down to the seating position, these features can help your stairlift feel truly yours.
Consider the cost of a stairlift
Once you've decided on a type of stairlift, and the features you may require it to have, it's time to start considering the cost of a stairlift. Buying a stairlift is a big commitment but can be a life-changing one.
Our page, how much does a stairlift cost, can help answer questions about the price of stairlifts. When considering the cost, there are two questions you should ask yourself.
Can you get financial aid?
If eligible, you may be able to receive financial aid to help pay for your stairlift. Not only offered through the government but also through charities and referrals from professionals like an occupational therapist. Financial aid can make the purchase of a stairlift an easier process and is something you should look into before buying. Find out more on our financing a stairlift page.
Do you need a stairlift long-term or short-term?
If you are only going to need your stairlift for a short amount of time, perhaps to assist with an illness or recovery from a procedure, you could look into renting a stairlift. Great for those that won't need a stairlift for a long period of time, renting is worth considering. Find out more on our renting a stairlift page.
Get in touch
Now, all there is left to do is start the process of buying your stairlift. If you haven't already, organising a free home assessment is the best way to get the ball rolling on your new stairlift. If you still have reservations, or questions, feel free to call us on 0800 117 0162 to talk to our trusted advisors.