Stairlift Features
Choose from our selection of features which can be built into your stairlift to make it unique to your individual needs and your home. And if you don't see what you are looking for, just ask, as it may well be that our expert stairlift engineers can come up with the perfect solution.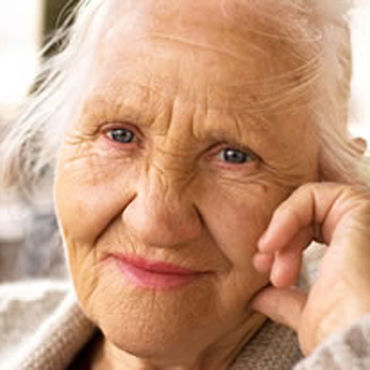 Slide Track
The unique sliding track is slightly shorter than the length of the staircase. The track moves with you as you travel up or down the stairs on the stairlift and reaches its end point before you get to the top or bottom of the stairs. This makes it safer to get off. This option is especially useful where both the top and bottom of the stairs are potentially obstructed by the track.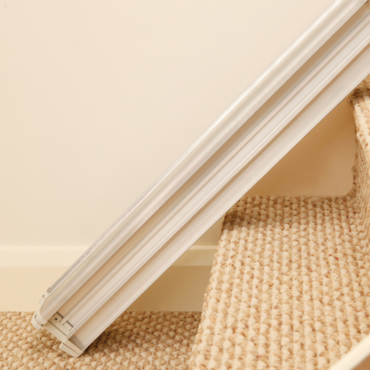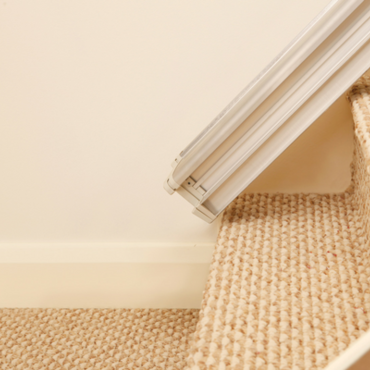 Powered Hinge Track
To avoid the stairlift track permanently blocking doorways, or creating a trip hazard, the Companion track can be folded away at the click of a button on the handset.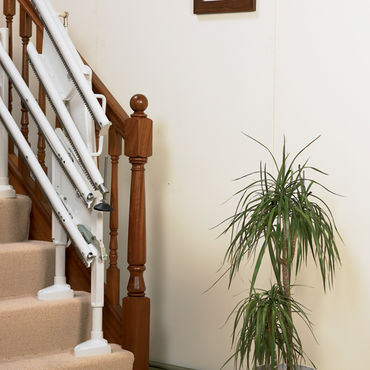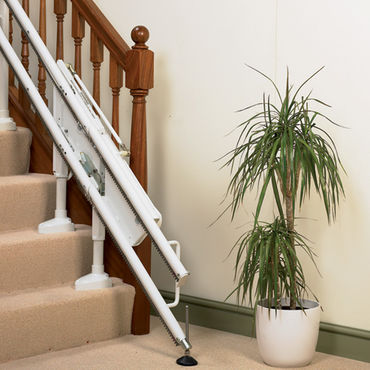 Swivel Seat Option for Easier Dismounting
The seat can be swivelled round to allow you to step comfortably onto the landing. As an optional extra, Companion also offers a powered swivel seat.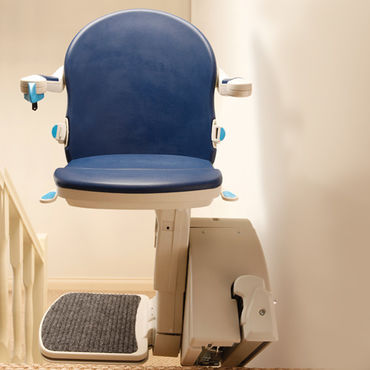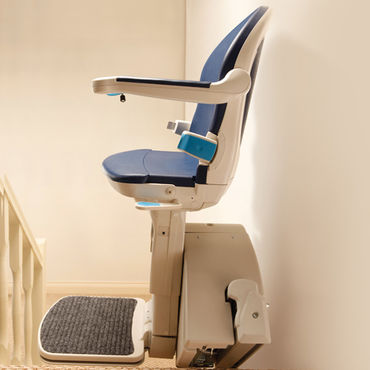 Perch Seat
If you have restricted movement in the knee or hip joints you may find sitting painful. In these situations a perch seat may be the ideal solution as it allows the user to be in a near-standing position when using the stairlift. This can also be a useful solution for extremely narrow stairways.
Upholstery is available in a choice of 6 colours. Available for the 950+ and 1000 straight stairlifts, and the 2000 curved stairlift.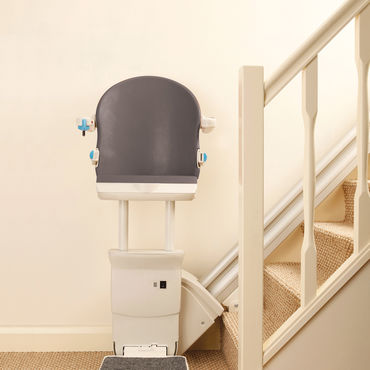 Remote Control
The stairlift can be 'parked' out of sight at the top or bottom of the stairs and simply called back to your feet when needed via the infrared remote control. This is also ideal when more than one person in the house uses the stairlift. If necessary, somebody else can even operate the stairlift for you whilst you travel in safety.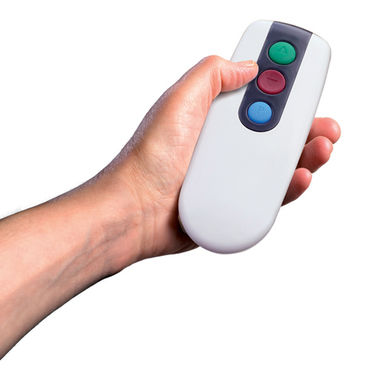 Easy to Use Left or Right Handed Controls
Companion's unique ergonomic controls were designed with input from Occupational Therapists to make sure all Companion Stairlifts are simple and comfortable to use - even for sufferers of arthritis or the visually impaired. The comfortable easy grip 'paddle switch' requires minimal pressure, simply push in the direction of travel to move off.
Controls can be accommodated on either of the armrests to reflect a right or left handed user preference. This is a very useful feature for people who have possibly suffered a loss of mobility to one side of their body and need a stairlift that is built specifically around their needs.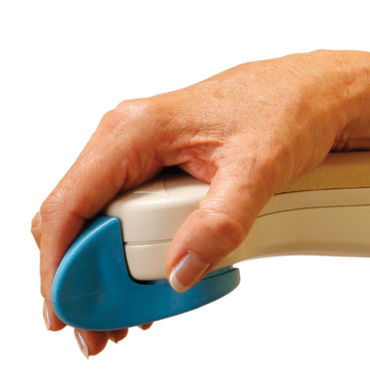 Upholstery Colour Choice
As well as being comfortable and offering support for your lower back, the Companion seat comes in a choice of 6 colours to complement any décor. Should you choose to redecorate your hallway, you can even have your seat re-upholstered to suit.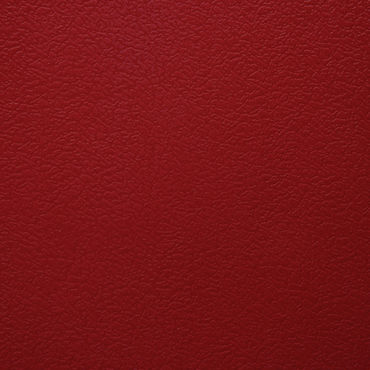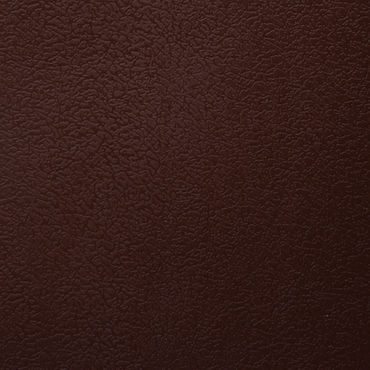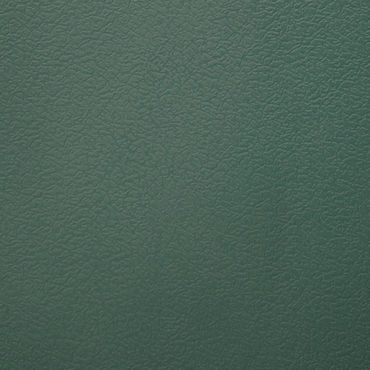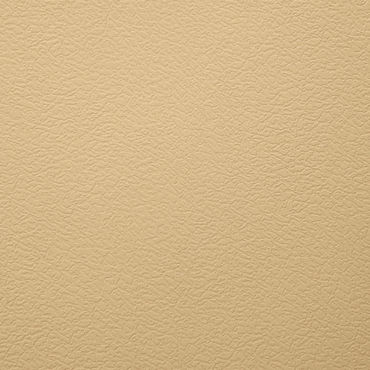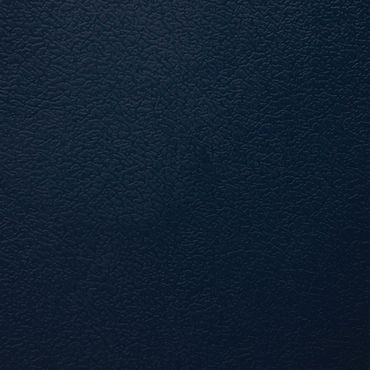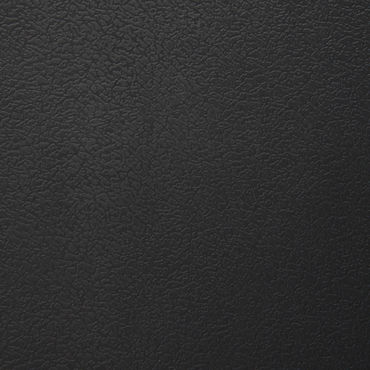 Automatic Cut-Out Safety Sensors
Should the stairlift detect an object in the path of one or more of its 7 sensors, it will automatically come to a smooth and safe stop.
Turn & Go (FreeCurve Only)
Turn and Go has been specially developed to help those customers who have a very narrow staircase that turns corners. Your seat will turn automatically so that your back faces the stairs, not the wall or handrail, during travel and moves your knees away from potential clashes with the wall or banister.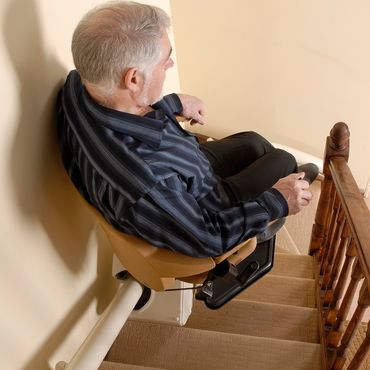 Active Seat (FreeCurve Only)
The Active Seat has been designed to give you added support when you stand up and sit down in the stairlift chair. The technology has a lift and tilt mechanism, where the seat tilts upwards to help you when you are getting up and to gently lower you when sitting down.